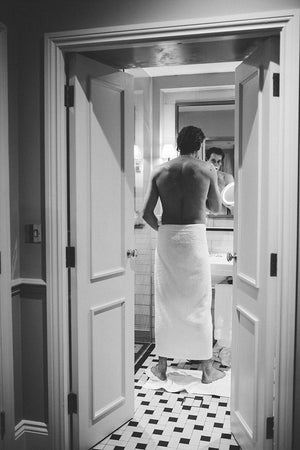 SIGNATURE SELFCARE
FOR MEN
Great Ideas always come out of banter.
It all started with a group of old acquaintances, some friendly banter and a strange alien word, "Phitkari". Who would have imagined a usual get together and an unusual word would end up in a venture that will aim at changing the way modern men think.
One of my friends at the get together asked me about what aftershave I used? To which I responded without much thought, "Alum." As soon as I said it fingers frantically moved on their keypads and clicking noises filled up the room! But like one of those unlikely encounters, the internet didn't have much to say, barring a few pictures that showed a man whom one would ideally encounter in an 'akhada' type setting with the slogan 'fights razor burn!' Most of them had not heard of it, much less tried an odd looking soap on their skin hence a few unsure eyes turned towards me. "It's also called phitkari that barbers used when we were young." said I. After hearing the word 'Phitkari' everyone let out a hearty laugh. "So you are telling us you've been using what even the barbers are done with?"
PINKWOOLF WAS BORN
I told them that it might sound archaic but alum along with a wet traditional shaving method has helped me cure dry, broken, cut skin and even razor burns. And that "dadaji ke zamaane" ki shaving is something that we all must go back to. "I have been enduring rough skin and razor burns as a part of the deal! And who knew there's a "Shaving Method?" said one of them. He continued saying, "But who's going to provide us with the necessary equipment to try these methods? Unless we plan to go back in time."
PINKWOOLF
The room cracked up but an idea had just been born. To bring back the traditionally accepted shaving methods in today's times and make changes in the quick lifestyles which we have resorted to, mostly due to lack of options and guidance.
And hence was born The Pink Woolf.
SHOP ALL